ULYSSES ENSEMBLE 2021
Inspired by the grand tours of classical musicians traveling through Europe and the goals of training and enriching the practices of young musicians, the ULYSSES Network brings together 11 European institutions for the promotion and professionalization of young composers. With the ULYSSES Ensemble, the ULYSSES Network reached a new peak in 2017, concentrating its efforts on young performers in the domain of new music.
In 2021 the ULYSSES Ensemble  tours from June to October, visiting several European academies and festivals (IRCAM ManiFeste, Fondation Royaumont, Festival Mixtur).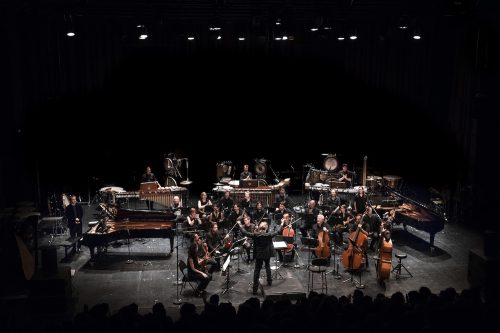 © Quentin Chevrier
STOP 1 – MANIFESTE-2021
Sunday, June 13 — Sunday, June 20, 2021
Paris (France) 
Educational Advisor: Pierre Bleuse (conductor), soloists from the Ensemble intercontemporain
With the participation of Nicholas Isherwood, bass singer, and Nicolas Crosse, double bass, as soloists
Conductor Pierre Bleuse leads a master class for the ULYSSES Ensemble with the complicity of soloists from the Ensemble intercontemporain who advises the young musicians and perform two works with them:
Partiels by Gérard Grisey, focusing on instrumental sound synthesis, and Introduction aux Ténèbres by Raphaël Cendo, a piece he created in IRCAM studios in 2009. For this rerun, ULYSSES ensemble and Ensemble intercontemporain benefit from his active participation in rehearsals, as guest composer of the academy ManiFeste-2021.
ULYSSES ensemble musicians also work closely with Filipino, Austria-based, composer Feliz Anne Reyes Macahis to create her new piece for ensemble and electronics, a commission by Fondation Royaumont and IRCAM, endorsed by the ULYSSES network. In this work, the musicians not only use their instruments but also their voices, creating a new communication language based on an audio archive of Fabio Dalasay singing the epic of Agyu by Agusan Manobo.
The first day is dedicated to personal work and section rehearsals with musicians from the Ensemble intercontemporain. The week culminates with a public concert as part of the festival ManiFeste-2021 on 19th June at 8.30pm @ 104:
. Raphaël Cendo, Introduction aux Ténèbres, for bass voice soloist, double bass soloist, ensemble and electronics, 40 minutes (2009)
. Gérard Grisey, Partiels, for eighteen musicians, 23 minutes (1975)
. Feliz Anne Reyes Macahis, diwata, for ensemble and electronics, 15 minutes (2021), ULYSSES Co-Commission by IRCAM-Centre Pompidou and Fondation Royaumont, with the support of the ULYSSES Network, supported by the European Union's Creative Europe program – WORLD PREMIERE
++
Following young performers have been selected for the ULYSSES Ensemble 2021:
Flute – Rebecca Blau (DE)
Oboe – Olivia Palmer-Baker (IE/UK)
Clarinet – Riccardo Acciarino (IT)
Bassoon – Olivia Palmer-Baker (IE/UK)
Horn – Mari Tirkkonen (FIN)
Trumpet – Thaïs Jude (FR)
Trombone – Alejandro Ivorra Elull (ES)
Piano – Miharu Ogura (JP)
Percussion – Luis Azcona Delgado (ES)
Violin – Audrey Sproule (CDN)
Violin – Ernst Spyckerelle (BE)
Viola – Hortense Fourrier (FR)
Cello – Beatriz Raimundo (PT)
Bass – Mathilde Barillot (FR)