Masterclass for Young Performers/ Piano 
As every year, the Divertimento Ensemble organises the Call for Young Performers / Piano, a masterclass held by Maria Grazia Bellocchio – Divertimento Ensemble's pianist – and dedicated to the contemporary piano repertoire. The 2020-21 edition is a monographic course on piano pieces by Alessandro Solbiati, who will attend some of the lessons as a tutor. At the end of the lessons, the Call for Young Performers offers enrolled students the opportunity to perform in one or more concerts of the Milan Rondò season.
Two pianists selected by the ULYSSES Network will attend the Call for Young Performers: Carolina Santiago Martínez and Mikhaïl Bouzine.
Place: Milan, Fabbrica del Vapore
Dates: From November 2020 to May 2021
Public Concert scheduled on 26th May 2021
Palazzina Liberty, Milan (IT)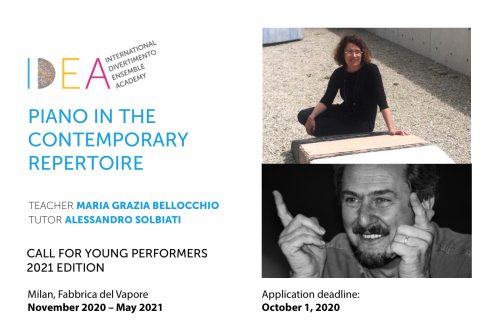 More information here.