The ULYSSES Platform
In light of the fact that young creation in the field of new music is today more active than ever, the ULYSSES Network partners began in 2011 to imagine a new online tool conceived to easily identify and support artistic initiatives on an international level.
The ambition was to set a benchmark in the European cultural sphere, meeting the needs and expectations of contemporary music professionals and young artists.
Promoting collaboration and exchange between disciplines, artists, and organizations, the ULYSSES Network Platform is fully in line with this dynamic.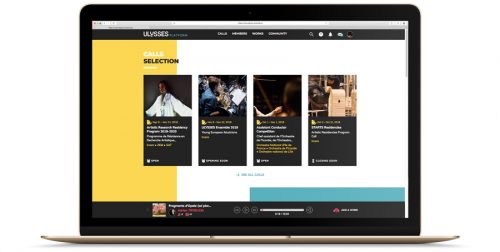 The ULYSSES Platform, dedicated to contemporary classical music makers, has grown since 2012 to become a significant venue for digital networking, seeking and offering opportunities in the field.
The ULYSSES Platform is an online platform open to a wide network of artists (musicians, composers, conductors), artistic directors, cultural managers, and organizations from all over the world united by a common passion: contemporary music. The platform has to date almost 4600 members and the number is growing constantly.
=> Becoming a member is and will remain free of charge.
The heart of the platform is a community of individuals, ensembles, and organizations who are active in contemporary music. After creating a profile, all members are able to send messages to each other, upload works to an ever-growing library of new music, share events and make applications to calls and competitions.
As a member, you can use the ULYSSES Platform to:
Create a profile with relevant professional information (biography, works…),
Promote your events or activities,
Organize and announce your calls for applications and evaluate the candidates,
Submit your application to calls announced by other members,
Spot new works and collaborators and be informed about the latest artistic propositions in the field of new music,
Share artistic content and other documents of their work (scores, recordings, videos…) as well as information about events or activities they are involved in,
Communicate with other members.
For organizations, the platform offers:
a tool to create and manage calls, competitions or other application processes with automated procedures,
a community to promote their activities to and find talents for their projects from.
=> Creating the profile is and will remain free of charge for organizations as well.
You can find the ULYSSES Platform here: www.ulysses-network.eu
For any further information about the platform and its development, you can always contact us.
Enregistrer
Enregistrer
Enregistrer
Enregistrer