Chamber Music Course with flutist Camilla Hoitenga
07/2019
Time of Music – FI
During the course young students and professionals to become have a chance to work with flutist Camilla Hoitenga on agreed contemporary solo and chamber music. Hoitenga is especially well known for her collaboration with Kaija Saariaho and Karlheinz Stockhausen. The course consists of solo and chamber music lessons and ends with a public concert. Applications can be submitted as a solo player, a existing duo or chamber collective.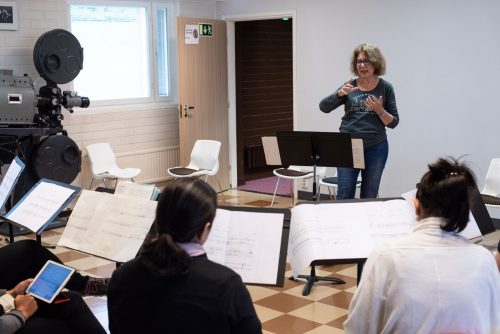 © Sami Sorasalmi
Flutist Camilla Hoitenga is at home on stages all over the world, performing in venues as diverse as Carnegie Hall in New York, the Royal Festival Hall in London, the Kremlin in Moscow and the Forbidden City in Beijing, China. She is especially well known for her collaborations with composers like Kaija Saariaho and Karlheinz Stockhausen. She has premiered concertos written for her by composers such as Kaija Saariaho, Péter Köszeghy, Ken-Ichiro Kobayashi and Raminta Serksnyte with orchestras such as the London Philharmonic, Chicago Symphony, Royal Philharmonic of Stockholm, the Finnish Radio Orchestra, as well as with orchestras in Paris, Barcelona, Helsinki, Berlin, Kyoto, Tampere, Frankfurt, Vilnius, and many others, working with conductors like Jukka-Pekka Saraste, Susanna Mälkki, Alan Gilbert, Christoph Eschenbach, Marin Alsop, and Vladimir Jurowski, and has appeared at festivals from Ojai to Paris to Salzburg to Kyoto.
Her repertoire ranges from pre-Bach to post-Stockhausen, from concertos to music for flute alone (Stockhausen, Eötvös), from state-of-the art pieces for live video and electronics with Jean-Baptiste Barrière or Claudia Robles to improvisations with Jean-Marc Montera or Taavi Kerikmäe to interdisciplinary projects. Her recordings, in particular those with Kaija Saariaho, have won awards in France, Great Britain and in North America.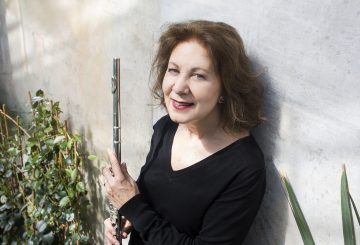 © Maarit Kytöharju
Camilla Hoitenga has taught at the State University of New York and at the Folkwang Hochschule Essen/Duisburg and continues to give masterclasses and workshops on various subjects for musicians of all ages.
Her own flute teachers were Darlene Dugan, Alexander Murray, Peter Lloyd and Marcel Moyse. Further inspiration came in the course of studies with philosopher Nicholas Wolterstorf at Calvin College (B.A), and with early-music expert George Hunter, composers Ben Johnston and Sal Martirano and ethnomusicologist Bruno Nettl at the University of Illinois (M.Mus., D.M.A.), and, especially, with Karlheinz Stockhausen in Cologne.
Born in Grand Rapids, Michigan (USA), Camilla Hoitenga now lives in Cologne, Germany and Sylva, North Carolina.
Time of Music Viitasaari, Finland 2-7 July 2019
The detailed call can be found on Time of Music's website www.timeofmusic.org
Andrew Power and Vitaliy Kyianytsia participate to this workshop in the framework of the ULYSSES Journeys 2019.