The ULYSSES Network supports several emerging European ensembles, programming concerts where a new repertoire is promoted, thanks to commissions and reruns. hand werk köln is one of the ensembles benefitting from the Young Ensembles program of the ULYSSES Network. Based in Cologne, Germany, hand werk is known for placing craft and care for the composition and quality of the interpretation in the foreground of their work. The ensemble welcomes pieces that were only played once and then forgotten and is open to works with a rather serious and/or performative character, often also augmenting their core formation by everyday objects, self-made or electronic.
The theme of this year's Warsaw Autumn is "immersion." It is about a multichannel experience of reality, with its complexity and undefinition, being thrown into it both, the spatial aspect (from corporality through the environment, the cityscape, and so forth) and the temporal aspect (symbolism, archetypes, public life). Hence our special interest in non-narrative and spatial musical forms, sound objects, and installations.
The young ensemble hand werk köln specializes in the performance of works representing a sort of "elementary research." For this purpose, the ensemble uses specifically treated musical instruments as well as sound and visual objects. It redefines musicality and triggers cognitive curiosity. For this year's Warsaw Autumn program the ensemble performs pieces from its repertoire but also a newly commissioned work. Obviously, because of their specific "sound métier," the inception of such a composition requires the composer to travel to the Ensemble's place of residence in order to select sound objects to be used in the piece.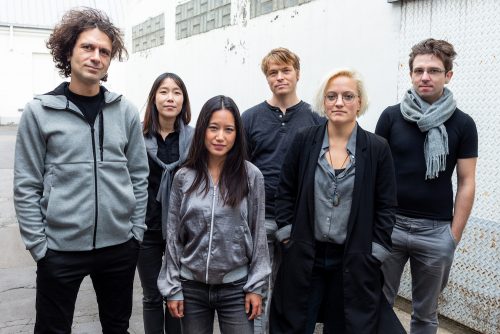 © Giorgio Morra
The public concert is scheduled for 20th September at 7.30pm in Warsaw (PL).
Programme:
Luís Antunes Pena Tracking Noise #4
Kuba Krzewiński Incorporate no. 3(Warsaw Autumn commission)
Sabrina Schroeder He Cuts Snow
SukJu Na sngw
Manos Tsangaris Tafel 1 ("Wieser's Werdetraum")
Further information on the website of Warsaw Autumn.