International Workshop for Young Composers

Compositions for ensemble and for solo instrument
Moncalvo (Piedmont, Monferrato, Italy)
Tutors: Francesco Filidei and Fabien Lévy
Ensemble in residence: Divertimento Ensemble
Conductor: Sandro Gorli

Place: Orsolina28, Moncalvo (Piedmont – AT)
Period: 26 August – 3 September 2022
The selected composers are invited to write an original piece. They will have the opportunity to interact with the ensemble's musicians, conductor and the two tutors, until the composition is performed in concert. A maximum of two compositions for ensemble and one composition for solo instrument are also selected by the two tutors and the musicians of Divertimento Ensemble after the performances to be included in the Rondò2023 programme, the Milan concert season of Divertimento Ensemble.
Two composers selected by the ULYSSES Network attend the International Workshop for Young Composers:
Clara Olivares
Vitali Karakgezidis
Divertimento Ensemble is also offering Paolo Brignoli (violin) the opportunity to participate in the project as a member of Divertimento Ensemble, in the framework of the ULYSSES Journeys for Performers.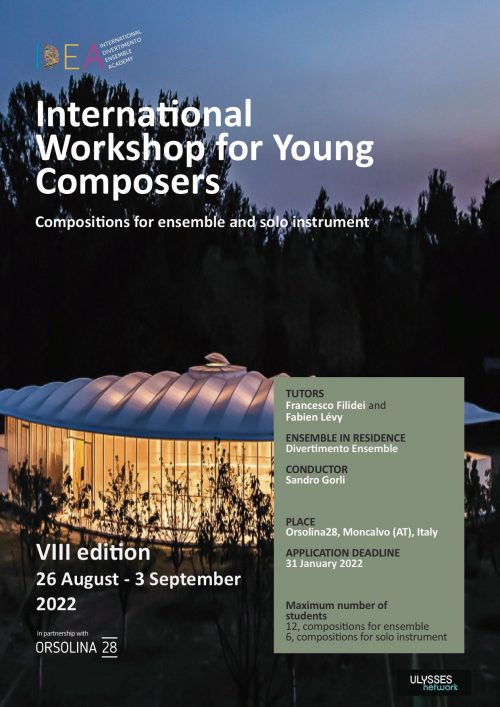 Further information here.