The ULYSSES Ensemble and the ULYSSES Network took a step forward in 2017, focusing their efforts on young performers – as always, in the field of today's music. Every year, a new ensemble of young musicians living in Europe is formed and travels to several academies and festivals in the ULYSSES network.
2022 marks the first time that the ULYSSES Ensemble is an ensemble entirely dedicated to percussion, and travels from June to September from the Percussions de Strasbourg to the ManiFeste Academy, the Time of Music Festival and the Gaudeamus Festival, ending with the Warsaw Autumn Festival.
The ULYSSES Ensemble is made up of 5 percussionists, accompanied by percussionists from the Percussions de Strasbourg who lead and guide the young performers throughout their journey. The members of the ensemble are Paolo Amendoeira, Théo Guimbard, Seon Yeon Kong, Mikolaj Rytowski and Akane Tominaga.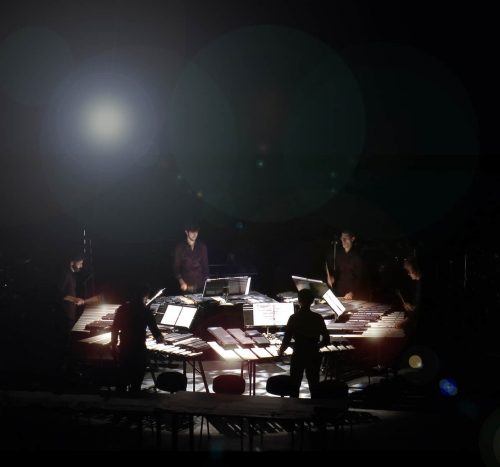 © Percussions de Strasbourg
Stop 5 – Warsaw Autumn Festival
Monday, September 19—Thursday, September 22, 2022
Concert: Wednesday, September 21, 2022
Warsaw (Poland)
James A.-McEwan:  a/mi(d)st a/noise_and, -[d]is_interference///for
for 6 percussionists and electronics (2022), 10 min, commissioned by Time of Music, Gaudeamus Festival, Warsaw Autumn Festival, Polish Premiere
Malika Kishino Sange (2016), 15 min Polish Premiere
Kazimierz Serocki Continuum (1965-1966), 12 min
Mioko Yokoyama Talking metals, talking drums for 6 percussionists (2022), 15 min, commissioned by Time of Music, Gaudeamus Festival, Warsaw Autumn Festival, Polish Premiere
Iannis Xenakis Métaux 14 min & Peaux 8 min, excerpts from Pléiades (1978-1979)