A Million Ways to Say Goodbye – Interdisciplinary Approach to a Sentimental Topic
The "In-Situ/City" activity is aimed at putting young artists squarely in the middle of various European social contexts and creating closer relationships with European citizens. The city – with all that it implies from a historical, cultural, political, and social perspective – will be the focal point of these activities.
+++
In Summer 2021 an interdisciplinary project at the Hochschule für Musik und Theater Hamburg (DE) explores the multiple facets of "farewell".
Within this exploration, young composers and musicians work together with theater students and professionals from various disciplines to create an artistic sphere that allows transforming into art the sentimental and not so sentimental matters that come with the topic.
Hamburg, with its port in the city center, is one important factor in dealing with "farewells", but attention is also paid to the overall philosophical aspects attached to this matter. Therefore, the project will not only take place at the HfMT but also in different places all over Hamburg. Additional to the artistic program of the project, Prof. Gordon Kampe and Dr. Verena Mogl invite scholars from different fields of research to present their scientific views on "farewell" within a lecture series at the University of Music.
In a final public concert, the participants present their findings, online and offline documentations will follow the whole project and bring it into connection with other InSitu/City-Projects within the ULYSSES Network.
The project starts off with a preparatory workshop in early summer 2021 and is conducted in late August/ beginning September that same year.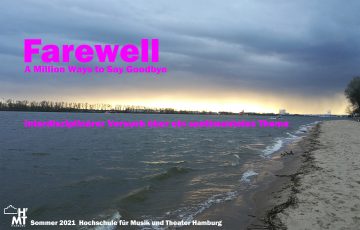 © HfMT