The "In-Situ/City" activity is aimed at putting young artists squarely in the middle of various European social contexts and creating closer relationships with European citizens. The city – with all that it implies from a historical, cultural, political and social perspective – will be the focal point of these activities.
++
This project is to implement a cooperation with the "180° – laboratory for innovative arts" Festival in Sofia, Bulgaria. The idea is to invite local student/young-professional artists from diverse art fields to collaborate with the IEMA-Ensemble, creating an interdisciplinary work inspired by "InSitu/City" SOFIA.
Mentors:
Alexandar Hadjiev, Director of the "180° – laboratory for innovative arts" Festival (Berlin, Sofia).
Ljubo Georgiev, architect, city development (Sofia)
Schedule:
18./19 December 2020: Alexandar Hadjiev and Ljubo Georgiev introduce the project to the IEMA-Ensemble in Frankfurt and lead a 2 days workshop with the topic "Interdisciplinary and intercultural performance aspects including introducing already specific characterstics of Sofia".
late Spring 2021: 2-3 members of IEMA-Ensemble visit Sofia for 3 days or meet 3 local artists and Alexandar Hadjiev online and get insights into the city of Sofia and its different layers. The artists explore not only the typical city center but as well suburban areas and will experience the different dynamics of the town. The artists visit youth clubs and school classes in order to get ideas about what are the local next-generation interests.
Meantime: The 2-3 members of IEMA-Ensemble together with the 3 bulgarian artists work on an artistic concept for the main project which is organized 24. – 30. July 2021 during the "180° – laboratory for innovative art Festival" in Sofia.
The artists meet regularly via skype calls and online platforms.
July 2021: IEMA-Ensemble arrives in Sofia and together with the local artists starts their tryouts/research in diverse locations in Sofia, preparing their performance/installation as event of "180° – laboratory for innovative art" 2021 Festival.
August 2021: The wish is to "reflect" the experiences from Sofia in Frankfurt. Consequently, an adaption/performance of the InsituSofia project to our house in Frankfurt Eastend takes place on August 4, 2021!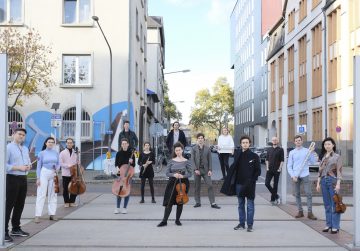 © Barbara Fahle