In the framework of the InSitu/City activity in Paris (and surroundings), IRCAM is implementing the project TACT, and specifically developing a device for the occasion:
TACT is a visual and sound work on a touch screen that proposes to the largest possible audience to become at the same time painter and composer, through a journey in the surrounding landscape.
TACT is installed on the 6th floor of the Centre Pompidou. After the spectacular ascent above the roofs of Paris, visitors are invited to live a second experience of the panorama, offered by the digital architecture of the device. The gestures improvised on the touch screen by the public constitute the central means of expression of the experience. It is through these gestures that the participants trigger the visual and sound metamorphosis of the device, making it, in turn, the instrument of their creation.
Far from the postcard, TACT pursues a deep reflection on our relationship to landscapes. For this, the project relies on collaboration with different artists (composers and designers) who will propose their interpretation of the territory where the device will be located.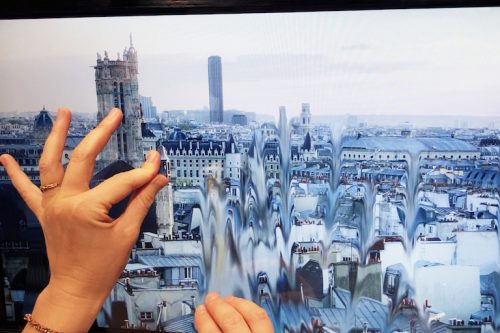 © Zoé Aegerter
Conceived as an interactive composition environment, the device is intended to be invested by several composers. They propose to the visitors a sound, musical and evolving interpretation of the panorama. The main principles of the relationship between gesture, sound, and image are defined beforehand to ensure coherence, ergonomics, and fluidity of the interaction for the public, but the sound content and the audio-graphic effects are always able to evolve according to the proposals. The composers integrate their instrumentarium in the device in order to create their own musical proposal. As an "open score", each creation can be performed by its author and/or the public.
Further information is available here.
Involved artists
Composers:
Romain Barthélémy
Lundja Medjoub
Fabien Bourlier
Didem Coskunseven
with the participation of Georges Aperghis
Other collaborators:
Zoé Aegerter : UX designer
Frédéric Voisin: computer music director
Pascal Vaccero : developer
Schedule of the project
24th – 29th November 2021: Test in real conditions @ Centre Pompidou Paris
6th – 8th December 2021: workshop with the composers at IRCAM
7th – 11th February 2022: implementation in the device and tests with an audience
9th – 16th May 2022: final implementation and preparation
June 2022: Performance @ Centre Pompidou Paris and final installation of the device for the entire summer