Since 2012, and thanks to the support from the Creative Europe Program, the ULYSSES Network has been dedicated to the promotion of young talented artists in the field of contemporary music.
In reaction to the pandemic and to the ongoing difficulties to travel, or to implement physical gatherings and on-site activities, the ULYSSES Network decided to organize online seminars for its community of young artists, focussing on specific topics related to international career development.
For each meeting, an invited speaker is shortly presenting a specific topic, before the participants get the occasion to discuss this topic together and to address questions.
At the end of each meeting, an « Open Space » allows some of the participants to present their own projects and to exchange with their young fellow artists.
Following the two first online meetings in June 2021 focussing on funding opportunities and successful grant applications, the next series of online seminars are scheduled for September and October 2021 as follows:
#3 Thursday 30th September 2021, 5pm CEST
Speaker: Katja Heldt, musicologist and music journalist

In her seminar, Katja Heldt talks about inclusion, diversity and gender equality in the context of contemporary classical music, present several research projects such as the Donaueschingen Global project (as part of the 100 year anniversary of the german festival Donaueschinger Musiktage in 2021), and reflects on critical perspectives on canon and music history and give insights into her own research on female pioneers of electronic music in the 1950-1980s.
Katja Heldt is a musicologist and music journalist specialized on contemporary classical music. She studied musicology in Cologne, Berlin and Montréal. Since 2020 she is enrolled as a PhD candidate at Lund University in Sweden, where she is writing her doctoral thesis on female pioneers of electronic Music. As an author, she writes for music magazines such as Positionen, Neue Zeitschrift für Musik, VAN, Circuit – Musiques Contemporaines and Glissando. She works for the Darmstädter Ferienkurse für Neue Musik and the Donaueschingen Musiktage and is responsible for the project "Donaueschingen Global" in the context of their 100th anniversary.
Photo © Marion Schöning
#4 POSTPONED TO Tuesday 16th November 2021, 4pm CET
Speaker: Maximilian von Aulock, Promotion Manager
How to become rich and famous as a composer?
Some insights from a publisher.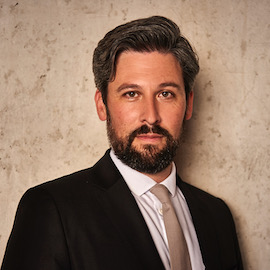 Maximilian v. Aulock is Ricordi Berlin's Promotion Manager for instrumental music and coordinates the international promotion activities. Before he joined the music publisher, Max was running his agency soniq performing arts, representing internationally ensembles, composers, and conductors and producing contemporary music theatre in cooperation with international partners.
#5 Wednesday, 27th October 2021, 5pm CET
Speaker: Heloisa Amaral, pianist, curator and teacher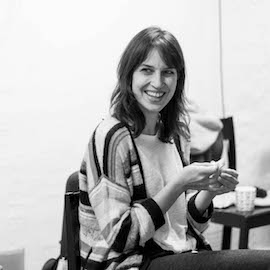 A concert is never just a neutral container for music. On the contrary, the context of a musical production, forms of audience involvement and display, programme texts, etc. are all elements that affect performance and listening in remarkable ways.
Aware of this, many composers and performers today think of these elements as part of their artistic practice, exploring them to engage new audiences and propose new musical experiences. In this talk, Heloisa Amaral discusses compelling examples from her recent publication, Yearning to Connect, and will invite participants to share relevant experiences and questions arising from their own personal practices.
Heloisa Amaral is a pianist, curator and teacher based in Oslo and Brussels. Currently, Heloisa is finishing a PhD in artistic research at Leiden University. In addition, she lectures in curatorial practices at the Royal Conservatoire The Hague, and performs solo, with Duo Hellqvist/Amaral and with Ensemble neoN.
Photo © Ellen Inga