Call for Young Performers / Voice
Vocal Chamber Repertoire of the second half of the 1900s and contemporary
Milan, Fabbrica del Vapore
Teacher: Alda Caiello
From October 2020 to July 2021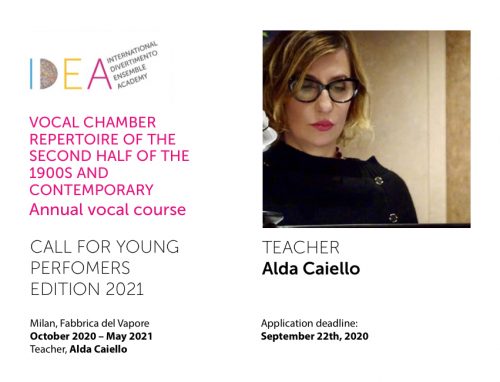 Every year, Divertimento Ensemble organizes the Call for Young Performers / Voice, a masterclass held by the soprano Alda Caiello and dedicated to the contemporary vocal repertoire.
At the end of the lessons, the Call for Young Performers offers enrolled students the opportunity to perform in two public concerts of the Rondò season in Milan (IT).
The course foresees 8 meetings (2 days each meeting on Saturdays and Sundays) from October 2020 to May 2021.
One singer selected by the Ulysses Network in the framework of the ULYSSES Journeys, Esther-Elisabeth Rispens, attends the master-class.
The two concerts of this Call for Young Performers / Voice take place in Milan on the 21st July at Sala Donatoni  at 6.30 and at 8.30pm.
Further information here.