Composition workshops at the Warsaw Autumn Festival offer young composers the opportunity to consult with established colleagues whose works are performed during the festival. The workshops are organized in cooperation between the Warsaw Autumn Festival and the Youth Circle, the young authors and scholars' section of the Polish Composers' Union, founder and organizer of the Warsaw Autumn Festival and uniting almost all Polish composers and musicologists, as well as foreign authorities linked to Polish culture. Composers who have run workshops in the last three years include Mark Andre, Magdalena Długosz, Cathy van Eck, Juliana Hodkinson, Pierre Jodlowski, Matthias Kranebitter, Zygmunt Krauze, Grażyna Pstrokońska-Nawratil, Niels Rønsholdt, François Sarhan and Elżbieta Sikora.
The workshops consist of individual tuition sessions with one or two composers selected by the participant. Participants are also free to attend other tuition sessions. Besides the composition workshop, each edition of the Warsaw Autumn Festival includes open meetings with composers participating in each edition, focusing on broader issues of culture, art, and technology.
For the 2022 edition of the festival, the workshops take place between 16th and 24th September. Two young composers have been selected to attend the workshop and festival in the framework of their ULYSSES Journey: Pablo Andoni and Itziar Viloria.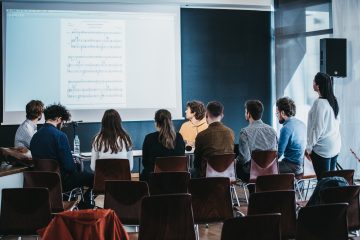 © Grzegorz Mart