The Voix Nouvelles Academy is open to composers and performers wishing to hone their skills in the interpretation of the contemporary repertory and presents a rare opportunity to progress under the guidance of world-famous composers and performers.
For composers, it recreates the complete process of creation of a new work, in professional conditions: commission, composition, rehearsals, concert, under the supervision of internationally renowned tutors belonging to different aesthetics. It calls on the leading ensembles to rehearse and perform the works and to advise and interact with the composers, taking an active part in the elaboration of the work. The academy also gives the opportunity of composing and getting to a better knowledge of specific instruments, like this year, the shô, the accordeon, the organ, the contrabass flute.
In its duration and its exceptional working conditions, the academy constitutes a unique forum for exchanges between composers, performers, and thinkers. Several specialists in the domains of management, musical production economics, author rights, the record industry, radio, and journalism will also be invited.
For its 2021 edition, the Royaumont Festival is placed under the idea of the American counterculture. Some composers are invited to get inspiration from the Pink Floyd's concert at Royaumont in 1971 on the occasion of the 50th anniversary of this event).
The academy also hosts the young composer Matteo Gualandi in the framework of his ULYSSES Journey for Composers.
From 20th August to 5th September 2021
Royaumont Foundation
Public Concert on 5th September in the framework of the Royaumont Festival
Further information here.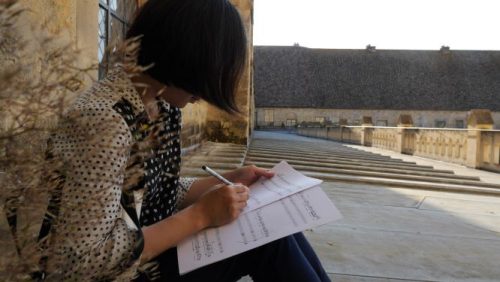 © Royaumont Foundation
In cooperation with:
Simon Steen-Andersen, composer
Clara Iannotta, composer
Aurélien Dumont, composer
Thomas Lacôte, organ
Ensemble Linea (FR)
Ensemble Exaudi (UK)
James Weeks, conductor
Jean-Philippe Wurtz, conductor