In the framework of the Replay culture heritage activity in Paris (and surroundings), IRCAM is implementing the project FASE, in a secondary school based in Bagneux.
Using a reference work selected by Ircam, students are invited to discover and reinterpret it in their own way, using and discovering specific technologies developed by IRCAM.
This "remix" allows them to encounter the work, understand it and 'make it their own'. Their remade and own piece, based on the reference work, remains free in its form: visual performance, choreography, or other.
For the school year 2021 – 2022, the Joliot Curie secondary school in Bagneux (suburb of Paris) is participating in the project with a class of third-year cinema students.
The workshop is led by the documentalist and an art teacher,  encouraging  transdisciplinary approach to the activity.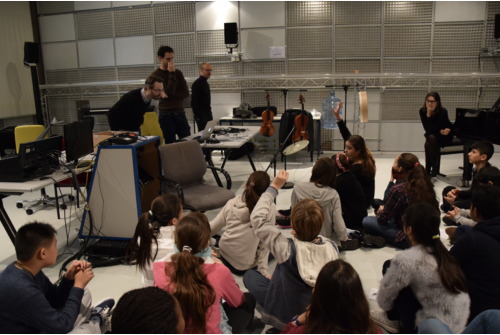 OBJECTIVES:
– Enable students to discover the specificities of IRCAM and the related professions
– Become familiar with sound creation tools developed at IRCAM
– Approach, understand, and re-create a contemporary musical work
– Participate collectively in the production of a final work, publicly performed at the end of the workshop
SCHEDULE:
The project starts in December 2021 till June 2022
The first two sessions may take place at the beginning of the Replay project, before the work sessions. Thereafter, the so-called "working" sessions will be held closer together.
REFERENCE WORK:
Fase: Four Movements to the Music of Steve Reich.
Music by Steve Reich,   with Anne Teresa De Keersmaeker, filmed by Thierry De Mey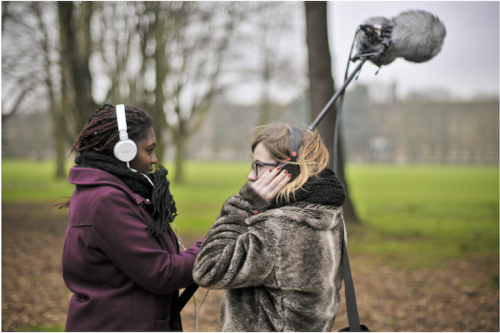 Session 1: Discovery of IRCAM
Session 2: Discovery of the reference work

Sessions 3, 4 and 5: Collection of sound material, conception of a new piece
Session 6, 7 and 8: Creation of a sound piece
Restitution of the project
 
++
Partners: Collège Joliot Curie, Bagneux
Documentalist: Saida Bouiss
Computer music Designer in charge of education/ teacher IRCAM : Grégoire Lorieux
Supported by : Foundation Fiminco, Mairie de Bagneux.
 Photos © Sophie Chassard