HfMT Hamburg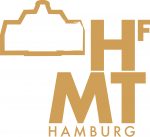 The International Summer Academy of Contemporary Music, taking place at the Hochschule für Musik und Theater (HfMT), Hamburg (DE), is an open space for young qualified postgraduate students, where they can immerse themselves intensively in contemporary chamber- and ensemble music.
At the Academy, a varying group of postgraduate composers, instrumentalists, and conductors get together with an experienced «ensemble for New Music» and various tutors for an intensive work experience. In daily workshops, the musicians rehearse new pieces and commissions together with the members of the ensemble in residence and the tutors. Biennially, a distinguished «composer in residence» will be present, who also works with the young composers and instrumentalists and instructs them in the preparation of his/her own piece. The participating composers explore how to perform and conduct their own pieces with the instrumentalists and the «ensemble in residence». The practical workshops are complemented by lectures of the invited composers and by career training.
The Summer Academy provides an opportunity for international instrumentalists and composers to experience contemporary music in a truly personal and inspiring atmosphere that facilitates experimentation and the encounter with different aesthetics. At the end of the Summer Academy, the workshop results are presented in a final concert.
For further information here.