Conducting Course, 17th edition
on the repertoire for ensemble
 from the early twentieth century to the present
Moncalvo (Monferrato, Piemonte, Italy)
5th to 13th September 2021
Teacher: Sandro Gorli
Every year, Divertimento Ensemble organises a Conducting Course on the repertoire for ensemble e
from the early twentieth century to the present.
The 2021 edition will have the following program:
Harrison Birtwistle, Carmen Arcadiae Mechanicae Perpetuum
Wofgang Rihm, Chiffre II
Mauricio Kagel, Die Stücke der Windrose (Norden)
Alessandro Solbiati, Sinfonia da camera
Franz Schubert – Alessandro Solbiati, Moments Musicaux n.3 e n.5 (Version for 13 instruments)
The participants, in cooperation with the Divertimento Ensmble, present
two public concerts in Piedmont, at the end of the course, within the season Rondò in Monferrato on 11th and 12th September
and
a final public concert in Milan on 13th September, at Fabbrica del Vapore, within the season Rondò.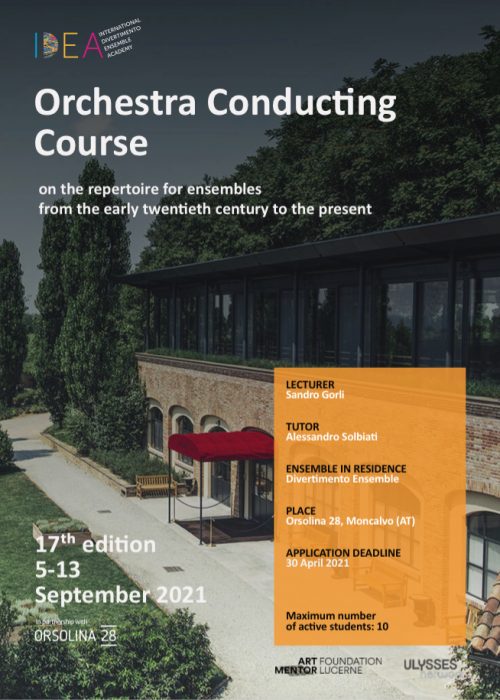 Further information here.