In this year's In Situ/City project Gaudeamus explores the nature-culture relations in the urban context of Utrecht through sound. Within three different projects, the divide between humans and nature is challenged.
Gemma Luz Bosch creates a sound installation of ceramic flutes for the three main sluices in Utrecht. The flutes sound through the changing level of the water and are part of a performance in which musicians join forces with the natural(/cultural) forces.
Annabel Schouten explores the history of Utrechts nature and culture along the Utrechtse Waterlinie. This site that historically functioned as a defence line also houses some of Utrechts oldest trees and nature.
She seeks to explore these contradictions through the theme of degradation within a sound installation that slowly degrades by the interferences of both audience and natural forces.
Lastly, Espen Hjort and Mees Borgman explore communication between humans and stones.
By posing the question of how we can communicate with stones they seek a more empathic relationship with the nonhumans all around us.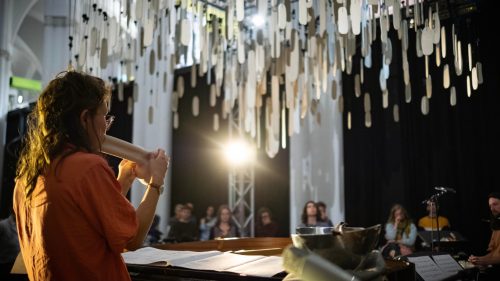 © Kasper van Dijk
Schedulde
February/March: workshops and research phase
April – May: work in progress presentations
July – August: rehearsals
September: performances and presentations