New Voices For Singing Cities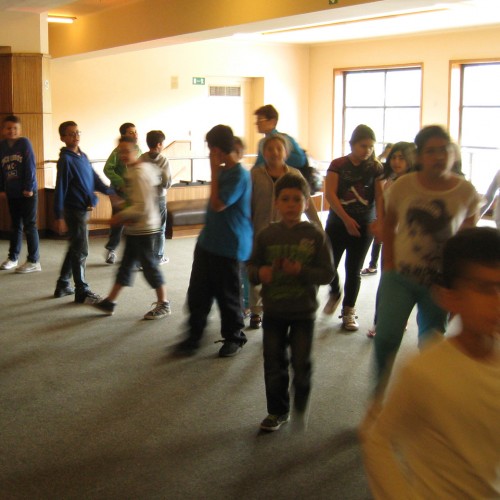 Divertimento Ensemble – IT
Flagey – BE
For the second time in the framework of the ULYSSES Network, flagey (BE) and Divertimento (IT) decided to cooperate in a project aimed at young amateur musicians.
In commemoration of the 100th anniversary of the First World War Flagey, the Theater De Spiegel, the Philharmonie de Chambre Belge, the Philharmonie de Luxembourg and the HERMESensemble have commissioned new pieces to two young Belgian composers : Karl Naegelen and Hanne Deneire for ensemble and children choir.
80 children aged 11 to 14 and the HERMERSensemble elaborated and performed the pieces, based around the theme of PEACE.
While Karl Naegelen chose to first completely write the score before starting the rehearsals with the children, Hanne Deneire decided to elaborate her piece in direct exchange and cooperation with the children.
The results are two amazing works, allowing the children to experience singing and various musical interactions with a professional ensemble, that they were all very proud to present in the final public concerts
A great occasion for the children to discover contemporary music – as active performers -and giving them the opportunity to live this experience from the inside, in playful but still demanding and almost professional conditions at the same time.
This project and the cooperation with the children choirs has been realized thanks to an initiative and under the guidance of MUS- E Belgium, a bilingual artistic organization and member of the International Yehudi Menuhin Foundation.
For more information you can watch a short video below

as well as a short television report (in Netherlands) here.
The concert will be presented again on 22nd April 2015 in Milano (IT), in cooperation with the DIVERTIMENTO ENSEMBLE and with Italian children choirs.
World Premieres
Monday, 26.05.14 / 13:30 (school concert)
Tuesday, 27.05.14 / 19:30
flagey, STUDIO 4
Program :
Hanne Deneire (1980-)  –  Innerlight (XI) for flute and bass clarinet  (2011 – 3')
Karl Naegelen (1979-)  –  Les Villes endormies (2014 – 20')
Hanne Deneire  –  Innerlight (IV + XI) for flute and bass clarinet  (2011 – 6')
Hanne Deneire  –  Poppy  (2014 – 20')
With children from two schools:
De Mozaïek (Schaerbeek, BE) + Les Jardins d'Élise (Ixelles, BE)
Coordination: MUS-E, Tom Goris
HERMESensemble
Steven Verhaert, director
Mireille Capelle, mezzosopraan / mezzo-soprano
Karin De Fleyt, fluit / flûte
Geert Callaert, piano
Gaetan La Mela, percussie / percussions
Peter Merckx, klarinet / clarinette
Stijn Saveniers, cello / violoncelle
Marc Tooten, altviool / alto
Texts:
Hanne Deneire, Poppy
(Tom Lanoye; after : In Flanders Fields, John McCrae)
In Vlaamse velden klappen rozen open
Tussen witte kruisjes, rij op rij,
Die onze plaats hier merken, wijl in't zwerk
De leeuweriken fluitend werken, onverhoord
Verstomd door het gebuder op de grond;
Nous sommes les morts,
Nous qui songions la veille encore
À nos parents, à nos amis,
C'est nous qui reposons ici,
Au Champ d'Honneur;
Take up our quarrel with the foe,
To you from failing hands we throw
The torch be yours to hold it high,
If you break faith with us who die.
We shall not sleep.
Karl Naegelen, Les Villes endormies
I. Aux portes de la cité déserte
Les anciens ont déserté la porte
Les jeunes ont cessé leur musique
« Est-ce là la ville qu'on appelait toute belle ? La joie de toute terre ? »
La joie a disparu de notre coeur
Notre danse s'est changée en deuil
« Est-ce là la ville qu'on appelait toute belle? La joie de toute terre ? »
Ilion
Aksoum
Smyrne
Ecbatane
Sinope
Sibaris
Sriwijaya
Cnossos
Ilé Ifé
Suessula
Sparte
Agrigente
Hattusha
Carthago
Véiès
Tikàl
Babylone
Copàn
Comme les dunes s'amoncelant les unes sur les autres
recouvrent les précédentes
III. Interlude / Hommage à Thallis
IV. Danse de la cité
Ami, souviens-toi Scipion pleurant ses ennemis
Ami, saurons-nous briser le cycle de victoires et de revers
Ami, entends-tu la voix des villes endormies ?
Ami, saurons-nous goûter au tendre bonheur d'une paix sans victoire ?
Organized in partnership with
Divertimento Ensemble - IT
Flagey - BE