Lunchtime concert in Aldeburgh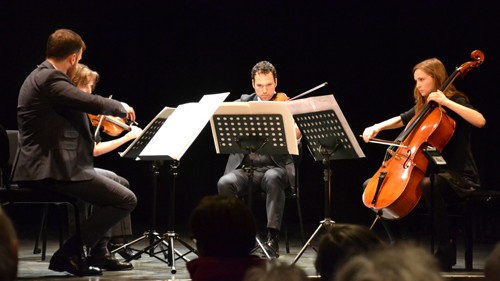 Snape Maltings – UK
It's been 25 years that Aldeburgh Music organises series of lunchtime concerts from January to March. It is the occasion, for quartets and chamber ensembles, as their careers take shape, to devote a concentrated period of study to the development of their repertoire and skills and to give public performances. The 25th  January, Aldeburgh Music organised a lunchtime concert in the Jubilee Hall. This unique place, located only 50 metres from the sea, is a great place of inspiration for all the artists who have the chance to stay there.
At this occasion, the Mivos Quartet, described as an "accomplished, admirably broad-minded young string quartet" by the New York Times, performed the piece "Instant de Foudre" written by the young French composer Raphaël Languillat.
A great opportunity for the young artist to see his creation, already played in Paris during the 2012 ManiFeste Academy organised  IRCAM, performed again in front of the english audience, who was there in spite of the bad weather!
After a short presentation of the project and the artists in presence, Bill Lloyd, director of artist development in Aldeburgh Music, gave way to the performance.
More information about this event in our Timeline.
You can as well see all the photos of this concert on our Facebook page and listen to the concert recording on our Soundcloud Page
Organized in partnership with
Ircam - FR