Les Cris de Paris Masterclass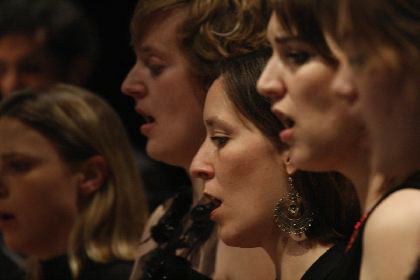 Ircam – FR
Les Cris de Paris and their musical director, Geoffroy Jourdain, are invited for the first time at IRCAM academy Mani-Feste, and give the chance to four composers to test the specificities of writing for a choir while creating an original repertoire for a capella men's voices.
The selected composers have to use the entire vocal effective, that is, the twelve men's voices (3 tenor 1s, 3 tenor 2s, 3 baritones, and 3 basses). They can not add any instruments or electronics. The composers can use either a text that they have written themselves, or a text that is either classic or contemporary. If the composer chooses the latter, they must have obtained the rights to use the text chosen in a musical work from the author or publisher.
Length of the work presented: 8—10 minutes
The public will have the occasion to see the result of this workshop Sunday, 1st of July, in the 400 room at CENTQUATRE.
More information about this event here.
Geoffroy Jourdain interview, about the Cris de Paris :

ManiFeste-2012 : Les Cris de Paris par Ircam-CGP
Organized in partnership with
Royaumont foundation - FR