Giocare la musica in Flagey (BE)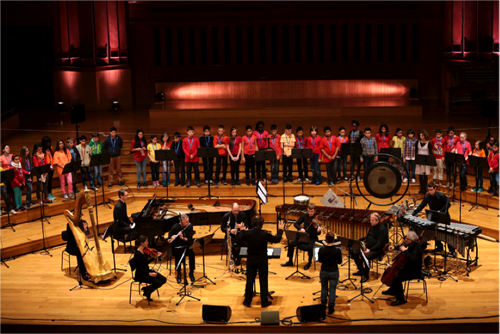 Flagey – BE
02/12/2013 – 13:30 and 03/12/2013 – 19:30
Flagey – Studio 4 (Brussels, Belgium)
Daniele Ghisi  Itaca
Rich O'Meara  Restless
Luciano Berio Three Folk Songs
Federico Gardella Quaderno di sabbia
Traditional song Bonjour : « Salama Toup'ko »
Arr. Sarah Goldfarb
Further to its Milanese premiere in 2012 of two compositions by Daniele Ghisi and Federico Gardella, GIOCARE la MUSICA was performed again to great acclaim at Flagey in Brussels (BE) on December 2nd and 3rd, 2013.
The works were performed by the ensemble Musiques Nouvelles, under the baton of Jean-Paul Dessy, and a children's choir, prepared by Gwedoline Spies and Sarah Goldfarb of ReMua.  102 students from the Saint-Henri (Woluwé-Saint-Lambert) and Les Etangs (Ixelles) schools joined forces to take part in this unique project, which celebrates contemporary music and its accessibility to audiences of all ages and backgrounds.
At the heart of the program lie the two works by Italian composers Ghisi and Gardella whose compositions encouraged children's spontaneous sense of expressivity.  Brought together through song, theater, and improvisation the children experimented with different sounds under the watchful accompaniment of seasoned professional instrumentalists.  The works were written in such a way as not to exclude those children who had not acquired sight-reading skills, using simple, legible elements, understood instinctively by all.
In Gardella's work the children are given the opportunity to discover an aspect of today's music by requiring that they interpret the work and as such, by giving them a sense of responsibility over the work. But the overall theme was one centered around sharing the stage, the music, and the experience.  In the words of Gardella: « I asked myself what I hoped the children would take away from this experience: The idea that through sharing we learn to become ourselves. »
Itaca is an anthology of works, which reflects, more or less directly, certain musical works of arts from Ockeghem to Grisey, which have marked Ghisi's path and training as a composer. Manipulating these works and using them as raw materials as he has in Itaca «were the occasion to ask (him)self what is universal or authentic. Belonging, universality, authenticity are often concepts, which, in the hands of composers, collide in the face of the rigidity of authors' rights.  In the end, all music is meta-music. »
More information can be found online. 

Photo credit : Isabelle Français
Photo credit : Isabelle Français
Organized in partnership with
Divertimento Ensemble - IT