Gaudeamus Muziekweek 2014 + Nominations Gaudeamus Prize 2015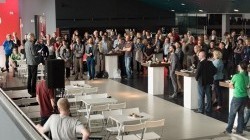 Gaudeamus – NL
The internationally renowned festival for contemporary classical music and young composers offers a broad palette to music lovers. Each year in September, the Muziekweek invites us all to embrace the here and now and sample the latest work of tomorrow's composers.
A short video presentation is available here.
In 2014, the Muziekweek hosted several ULYSSES projects, such as the the young ensemble IEMA – presenting a concert with not less than 4 world premieres commissioned to young international composers that have been working with the young musicians from the IEMA ensemble and various tutors over several months.
Besides IEMA, the Looptail Ensemble from Amsterdam (NL) has been another young ensemble invited by the Gaudeamus Muziekweek 2014 to perform pieces by the young composers, especially the Gaudeamus Prize Nominees 2014, in various concerts.
Other projects that have been presented during Gaudeamus Muziekweek 2014 and have been supported by the European Commission are :
# Soundroots.
In several workshops guided by Peter Ablinger these past few months, (Composition beyond music) the music technologists of the Soundlings collective developed electronic and acoustic ways to 'translate' the secrets of plants into audible material. This project is part of the celebrations of 375 years of botanic gardens in Utrecht. The route takes visitors through the city of Utrecht to museum garden De Oude Hortus and the Botanic Gardens. Soundlings consists of: Gagi Petrovic; Mark IJzerman; Roald van Dillewijn; Eric Magnée; Tijs Ham; Dianne Verdonk; Marieke van de Ven and Berit Janssen
.
Some photos of the project (© Anna von Kooij)
You can watch a video about this project here.
This workshop has also allowed to discuss the issue of "Art in the public space" during a seminar:
Walking down the street we often pass some statue or other without a second glance. Many such objects are taken for granted. Today's composers increasingly want to make their work heard in the public space. Sound walks are gaining popularity; music is presented in the most unexpected places. Sound art does tend to change the environment but is anybody taking notice? How does the public react? What is the impact of sound in the street?
Speakers: 
Reinhard Flender, 
Peter AblingerModerator: 
Bart van Dongen
Photos © Anna von Kooij
# Disklavier Plus.
The Disklavier poses real challenges to composers. The automated instrument does not require a human pianist. In other words, the possibilities are endless. Gaudeamus commissioned three composers to write for Disklavier and live electronics. Machi-nory by Ji Youn Kang was premiered in Muziekweek 2013 and made quite an impression; so a reprise is justified. Lucas Wiegerink adds harp to his piece, with a particular focus on the pedals of both harp and Disklavier. In Ben Wallet's Sonata for Disklavier the entire history of music is churned out at breakneck speed.
More information here.
GAUDEAMUS PRIZE 2014 + 2015
The nominees of the Gaudeamus Prize 2014 were
Anna Korsun (1986, Ukraine) – Vocerumori (2012, for six voices)
Benjamin Scheuer (1987, Germany) – absurde apparate (2013, for large ensemble)
Marina Poleukhina (1989, Russia) – and add to the neon elk a pinch of tarragon (2012, for tenor recorder, guitar, light, and dance)
Francisco Castillo Trigueros (1983, Mexico) – Sur les débris (2013, for bass flute and electronics)
Hikari Kiyama (1983, Japan) – Myojin 猫刄 (2013, for ensemble)
and we warmly congratulate Anna Korsun for her prize and the award of a composition commission worth € 4,550 for the 2015 festival!
Since October 2014, the jury of the Gaudeamus Prize 2015 including Calliope Tsoupaki (Greece), Raphaël Cendo (France) and Stefan Prins (Belgium), has studied all entries for the competition (in total 198 works by 66 composers from 25 different countries).
Five compositions have been selected and nominated for the Gaudeamus Prize 2015:
Alexander Khubeev (1986, Russia)
Jason Thorpe Buchanan (1986, USA)
Mátyás Wettl (1987, Hungary)
Stylianos Dimou (1988, Greece)
Utku Asuroglu (1986, Turkey)
We are already looking forward to discovering their works as well as the rest of the program of Gaudeamus Muziekweek in September 2015!
See you there!
Organized in partnership with
IEMA - DE
IMD - DE
impuls - AT
Royaumont foundation - FR
Time of Music - FI