Four world premieres at Royaumont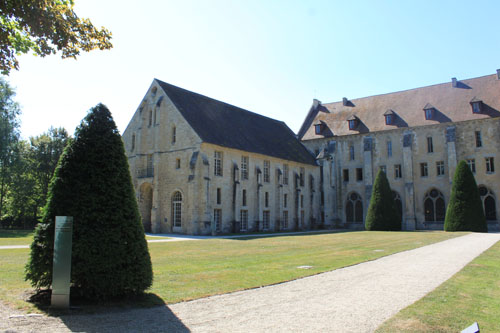 IEMA – DE
Last Sunday the beautiful Royaumont foundation abbaye welcomed the work of four young composers, chosen by two ULYSSES network partners: the International Ensemble Modern Academy (IEMA) and the Royaumont Foundation.
Each of the four composers—Martin Grütter and Birke Bertelsmeier, selected by the Modern Ensemble, Clara Iannotta and Gabriele Vanoni, two former students from the Voix Nouvelles composition session selected by the Royaumont Foundation—wrote a piece for an ensemble. They all previously benefited from a long workshop residency  in Frankfort, during which they worked with the IEMA, where they had the chance to perfect their orchestra writing knowledge, and create these four new music pieces (more information 
here
).
This concert provided the opportunity to inaugurate a European tour in the Ulysses network and  to perform 4 world premieres to the audience present at the Salle des Charpentes, at the Royaumont Foundation.
– First piece
Aphones 2 (2012), by Clara Iannotta (Italy, 1983)
– Second piece
Heroes of Feedback (2012), for trompette, percussion and electronic, by Martin Grütter (Germany, 1983)
– Third piece
Nite-Night (2012), by Gabriele Vanoni (Italy, 1980)
– Fourth piece
Nichtsdestotrotz (2012), by Birke Bertelsmeier (Germany, 1981)
Organized in partnership with
Royaumont foundation - FR