In the context of "festival cresc… 2022" IEMA-Ensemble 2021/22 is collaborating with the young professional Graz-based Schallfeld Ensemble.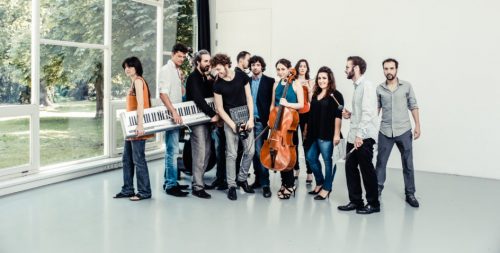 © Schallfeld/ Wolfgang Silveri
Apart from the compositional self-reflection ›music box / selbstportrait mit ligeti und strawinsky (und messiaen ist auch dabei)‹ by Marko Nikodijević and the politically motivated piece ›Workers Union‹ by Louis Andriessen, the programme features two world premieres by young composers from Russia/USA and Chile: Elena Rykova and Pablo Garretón.
The new piece by Elena Rykova is being commissioned by Internationale Ensemble Modern Akademie and Mixtur Festival Barcelona, with the support of the ULYSSES Network.
Entitled ›Reflections‹, the evening offers a multitude of perspectives on the festival's theme, ›MeWe‹.
CONCERT
5.3.2O22, 16:OO h
Künstlerhaus Mousonturm, Frankfurt, Germany