Young Audiences – Rerun Giocare la Musica – Go!
05/2018
Flagey – BE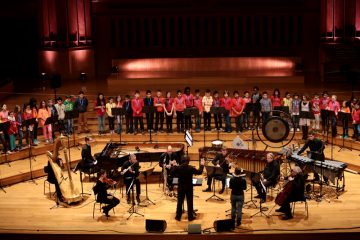 © Isabelle Français
In 2012 Divertimento Ensemble started the project Giocare la Musica: an annual workshop for children with no previous musical education, aged 8-10.
Every year a group of children (different children for each edition) has attended a workshop from November to May and has then performed two new pieces composed for them, together on the stage with Divertimento Ensemble and its conductor Sandro Gorli.
New scores by Daniele Ghisi, Federico Gardella, Marco Momi, Clara Iannotta, Stefano Bulfon, Alessandro Solbiati, Daniela Terranova, Roberto Andreoni were thus written and performed.
In the framework of the ULYSSES Network and thanks to a cooperation project between Flagey and Divertimento Ensemble, each year two of the works created in Milan (IT) in May 2017 are rehearsed and performed again in Brussels, at Flagey, with children from Brussels and its surroundings and the HERMES Ensemble.
In 2018, the concert in Brussels takes place on 30th May at 19h00, in Studio 4, under the title "Go!"
GO! is a unique collaboration between children's choirs from two primary schools from Molenbeek and Ixelles under the sign of El Sistema Transcanal. Under the guidance of ShAkE and the HERMESensemble, some of the finest contemporary works from Italy will be performed. Il Mondo di Tutti by Roberto Andreoni is dedicated to 'whoever has the courage to leave' and is a musical piece about saying goodbye, traveling, refugees and migration. Daniela Terranova composed Solo Andata, a tragic crossing with no return on the dangerous Mediterranean. Last but not least, Esercizio di Pazzia by Francesco Filidei is a refreshing 'exercise in silliness'.
Programme
Daniele Terranova, Solo andata
Roberto Andreoni, Il mondo di tutti
Francesco Filidei, Esercizio di Pazzia nr. 1
Credits
ReMuA/ShAkE
HERMESensemble
Stijn Saveniers, dir.
Further information here.
organized in partnership with
Divertimento Ensemble - IT