Workshop for Young Performers 2019/ Piano
05/2019
Divertimento Ensemble – IT
From December 2018 to May 2019 a number of young musicians (pianists, violinists, cellists) attend the piano and chamber music master class held by Maria Grazia Bellocchio, dedicated to the piano works and chamber music of Mauricio Kagel.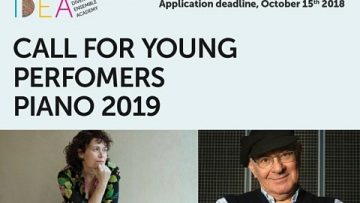 Two final concerts present the program studied during the master class at the Museo del Novecento in Milan (IT).
5th May 2019
Mauricio Kagel (1931-2008)
Klangwölfe (1979), for violin and piano
Passée composé (1992), for piano
Unguis incarnatus est (1972), for cello and piano
Trio in einem Satz (2001), for violin, cello and piano
12th May 2019
Mauricio Kagel (1931-2008)  – Piano pieces
M.M. 51 (1967)
4 piezas para piano (1954)
Ragtime waltz (1980-1982)
Der Eid des Hippokrates (1984)
A deux mains (1995)
Impromptu (1996)
Mimetics (metapiece) (1961)
An Tasten (1977)
Riccardo Bisatti and Daniele Fasani take part in the workshop and perform the concerts in the framework of their ULYSSES – Journeys.
You can read more and find additional photos in this FOCUS ON Article on the ULYSSES Platform.

© Giovanni Daniotti