ULYSSES Network Partners Assessment Meeting
05/2018
Divertimento Ensemble – IT
On 28th and 29th May 2018 the ULYSSES Network partner institutions gather for an Assessment Meeting in Milan (IT).
Hosted by Divertimento Ensemble this meeting is the occasion to discuss the results of the ULYSSES activites implemented since 2016 and possible enhancements for the activities and projects currently in development.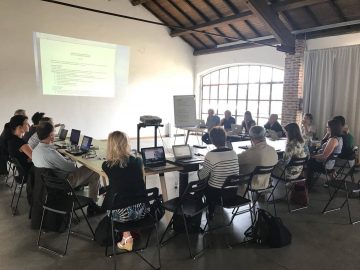 On the evening of th 28th May, the ULYSSES partner institutions had the exclusive opportunity to listen to some excerpts of a concert that was in preparation for the next day, and performed by the young singers that had been selected through the call for young performers of the Divertimento Ensemble.
Enregistrer
Enregistrer
organized in partnership with
EPCC - EE
Flagey - BE
Gaudeamus - NL
HfMT- DE
IEMA - DE
IMD - DE
impuls - AT
Ircam - FR
Royaumont foundation - FR
Snape Maltings - UK
Time of Music - FI
Ultima - NO