Conducting Course, 18th Edition
on the repertoire for ensemble
 from the early twentieth century to the present
Moncalvo (Monferrato, Piemonte, Italy)
Every year, Divertimento Ensemble organises a Conducting Course on the repertoire for ensemble from the early twentieth century to the present.
The 2022 edition has the following program:
Franco Donatoni (1927-2000), Spiri (1977)
Clara Iannotta (1983), D'après (2012)
Stefano Gervasoni (1962), Gramigna (2009-2015)
Peter Maxwell Davies (1934-2016), Eight Songs for a Mad King (1969)
Ensemble in residence: Divertimento Ensemble
Teacher: Sandro Gorli
Tutor: Stefano Gervasoni
PLACE: Orsolina28, Moncalvo (Piedmont – AT)
PERIOD: 4 to 12 September 2022
The participants, in cooperation with the Divertimento Ensemble, present two public concerts in Piedmont at the end of the course, within the Festival Rondò in Monferrato (September 10 and 11) and a final concert in Milan, within the Rondò 2022 concert season, at Fabbrica del Vapore, Sala Donatoni (September 12).
In the framework of the ULYSSES Journeys, Divertimento Ensemble is offering positions for two conductors, Jonas Ehrler and Estreilla Besson, and three performers, Elena Perales (clarinet), Nicolò Neri (cello) and Paolo Brignoli (violin), who will participate in the project by playing with Divertimento Ensemble.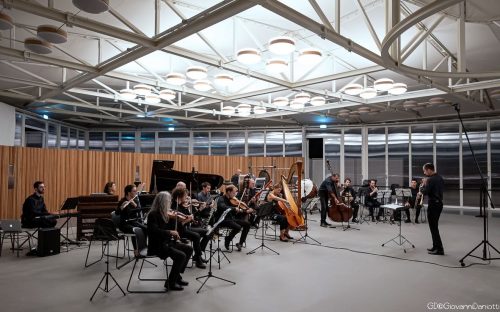 © Giovanni Daniotti