ULYSSES Ensemble Tour 2019 – Stop 3 – Royaumont Foundation
07/2019
Royaumont foundation – FR
Inspired by the grand tours of classical musicians travelling through Europe and the goals of training and enriching the practices of young musicians, the ULYSSES Network brings together 13 European institutions for the promotion and professionalization of young composers.
With the ULYSSES Ensemble, the network reached a new peak, concentrating its efforts on young performers in the domain of new music.
Since 2017, the ULYSSES Ensemble tours every summer, visiting several European academies and working with different musical directors and professional ensembles as tutors.
In 2019, the tour includes three stops in June and July:
STOP 1 : Snape Maltings in Aldeburgh (UK)
STOP 2 : IRCAM ManiFeste in Paris (FR)
STOP 3 : Fondation Royaumont in Royaumont (FR).
The ULYSSES Ensemble consists of 15 musicians:
1 flute, 1 oboe, 1 clarinet, 1 bassoon, 1 horn, 1 trumpet, 1 trombone, 1 piano, 2 percussions, 2 violins, 1 viola, 1 cello, 1 double bass.
Three additional musicians join the ensemble to participate in 1 or 2 stops: 1 clarinet (Stops 2 & 3), 1 saxophone (Stop 3), 1 harp (Stop 1)
PROGRAM STOP 3

The third and last stop takes place from 8 to 13 July a Royaumont Foundation (FR).
Conductor : Jean-Philippe Wurtz
The final stop in the ULYSSES Ensemble 2019 journey takes
place at the Royaumont Foundation in France. Here the ensemble works on a range of works from the contemporary repertoire including Stefano Gervasoni piece 's Su un arco di bianco, a work the ensemble has already seen and performed during Stop 2 in Paris, and a new commission by the young composer Sunyeong Pak (Voix Nouvelles 2018 Laureate).
French conductor Jean-Phillipe Wurtz guides the ensemble through a week of rehearsals culminating in a public presentation on Saturday, July 13.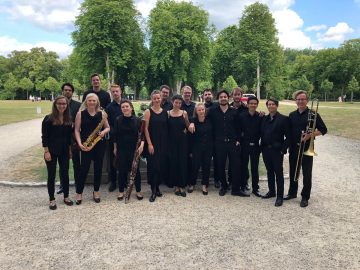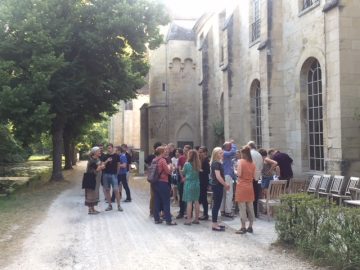 © Fondation Royaumont
CONCERT PROGRAM
. Francesco Filidei – Ballata 3, for piano and ensemble (2013)
. Stefano Gervasoni – Su un arco di bianco, for flute, violin and ensemble (1991)
. Philippe Hurel – Pour l'image, for ensemble (1985-1986)
. Sunyeong Pak – new work for ensemble (2019) WORLD PREMIERE. Commission by Royaumont Foundation.
organized in partnership with
Ircam - FR
Snape Maltings - UK