ULYSSES composers journey to ManiFeste-2019: Chamber Music/ Electronics with Ensemble Nikel
06/2019
Ircam – FR
Young composers' Journey stop to ManiFeste-2019, the academy:
Chamber Music and Electronics with Ensemble Nikel
Two-year Workshop
Session 1: Monday—Saturday, June 17—29, 2019 at IRCAM
Session 2: June 15—27, 2020 at IRCAM for selected composers
Educational Advisors: Raphaël Cendo (composer), Ensemble Nikel (Yaron Deutsch electric guitar, Patrick Stadler saxophones, Brian Archinal percussion, Antoine Françoise piano), IRCAM computer music designers.
IRCAM's multidisciplinary festival and academy, ManiFeste, the rendezvous for creation in Paris, places music in disciplines beyond the concert: theatre, dance, digital arts, visual arts. Between 120 and 140 young composers and performers from the world over take part in the academy every year, benefitting from a major artistic and technological setting as well as the presence of a large public audience for final performances.
IRCAM offers 10 young composers a two-week period during which they will have a series of composition classes on mixed music, instrumental classes given by the members of Ensemble Nikel, one-on-one meetings with the composer leading the workshop, Raphaël Cendo, and the academy's guest composers, and work sessions on their sketches with musicians. They will also have individual meetings with IRCAM's computer music designers to fine-tune the electronic part of their work. There will not be any rehearsals with the musicians during this first session.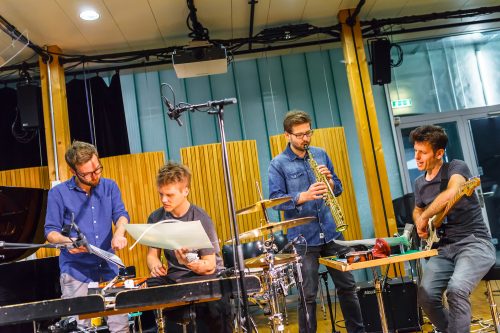 © Ensemble Nikel
At the end of this two-week session, some of the young composers will be selected to complete their score (5-10 minutes) during the 2019-2020 year. They will return in 2020, from June 15—27, to rehearse their works performed in concert during the ManiFeste-2020 academy.
Giulia Lorusso and Jacques Zafra participate to this workshop in the framework of the ULYSSES Journeys for Composers 2019.