ULYSSES Commission : Liisa Hirsch
01/2018
Flagey – BE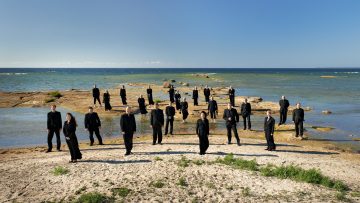 © Kaupo Kikkas
This concert at the Arvo Pärt Festival is dedicated to the a cappella choir music so well represented by the renowned Estonian Philharmonic Chamber Choir and its chief conductor Kaspars Putninš who recorded the music of Arvo Pärt for the label ECM. The programme includes masterpieces by famous Estonian composers such as Arvo Pärt and Veljo Tormis, but also introduces new works by the younger generation from the country such as Liisa Hirsch.
Programme
Ülo Krigul, Water itself
Liisa Hirsch, Lines*
Arvo Pärt, Nunc dimitis — Dopo la vittoria
Veljo Tormis, Jaanilaulud / St John's Day Songs for Midsummer Eve — Curse Upon Iron

* Belgian premiere, composition commissioned by Flagey in the framework of ULYSSES Network
28th January 2018, 18:00
Flagey, Studio 4
Brussels (BE)
Credits
Estonian Philharmonic Chamber Choir
Liisa Hirsch, electronics
Toomas Tohert, tenor
Olari Viikholm, bass
Kaido Janke, shamanic drum
Kaspars Putnins, dir.
Furhter information here.
organized in partnership with
EPCC - EE