Text im Klang – Ensemble Schallfeld
06/2018
impuls – AT
Premieres of impuls composition commissions and readings
Text im Klang is a laboratory, where medial interlacings with a focal point on impulse are put into practice. For the third time text fragments – in 2018 a text by Alexander Kluge – initiate compositions, that are premiered by Graz based Ensemble Schallfeld at a concert coming along with readings as well as discussions and exchange at an Open Brunch the following day.
New Works by
Jinwook Jung
Anna Korsun
Elena Rykova
Francisco José Domínguez Robles
Diego Jiménez Tamame
Text: Alexander Kluge
Ensemble Schallfeld
Margarethe Maierhofer-Lischka, double bass
Matej Bunderla, saxophone
Manuel Alcaraz, percussion
Maria Flavia Cerrato, piano
Davide Gagliardi, electronics
1st June 2018, 20.00
Großer Minoritensaal, Graz (AT)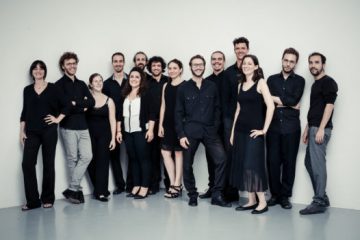 © Schallfeld Ensemble
impuls in cooperation with Kulturzentrum bei den Minoriten and the IEM,
co-funded by the Creative Europe Programme of the European Union.