International workshop for young composers – Rerun concert
03/2019
Divertimento Ensemble – IT
During the International Workshop for Young Composers 2018 (Bobbio, Italy – July 6th-15th 2018) 12 composers from all over the world worked with Divertimento Ensemble and the tutors Mauro Lanza and Francesco Filidei
.
All the compositions by the 12 composers were performed in two public concerts in Bobbio on July 14 and 15, 2018.
Two compositions (by Lorenzo Troiani and Vincent Portes) were further selected to be included in the Rondò 2019 concert season and are programmed for another public concert that will take place on 28th March 2019.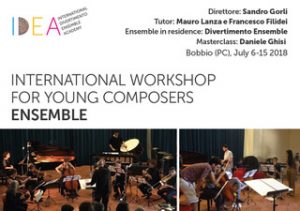 28th March 2019
Teatro Litta, Milan (IT)

20.30
Rondò Concert Season
Lorenzo Troiani (1989) – Studio sull'incisione, for ensemble (2018)
Vincent Portes (1995) – Kaléidoscope, for ensemble (2018)