International Workshop for Young Composers 2018 – COMPOSITIONS FOR ENSEMBLE
07/2018
Divertimento Ensemble – IT
International Workshop for Young Composers 2018 – COMPOSITIONS FOR ENSEMBLE
July 6th-15th 2018 – Bobbio (Italy – Piacenza)
Tutors: Mauro Lanza and Francesco Filidei
Ensemble in residence: Divertimento Ensemble
Conductor: Sandro Gorli
Extra masterclass by Daniele Ghisi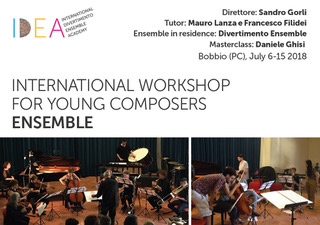 The workshop welcomes the ULYSSES Journey composer Lorenzo Troiani (Italy)

Three musicians chosen from the ULYSSES Journey performers (viola, flute, clarinet) also join the Divertimento Ensemble.
Further information here.
During the ten days of the workshop, participants have individual lessons with the two tutors and with the conductor of the ensemble to discuss their scores or other pieces, as well as working sessions with the performers of the ensemble; they shall listen to the rehearsals of their own work and of all the programmed pieces. They also attend the scheduled masterclasses.
All the compositions are performed in two public concerts in Bobbio on July 14 and 15, 2018.
Up to a maximum of three compositions are selected after the performances in Bobbio to be included in the Rondò 2019 concert season (Milan, January-June 2019).
It is possible to take part in the workshop in the workshop as observers.
The workshop includes masterclasses by each of the two tutors, rehearsals with the ensemble, individual lessons with each of the two tutors, individual meetings with the conductor of the ensemble and with the musicians as well as an extra masterclasses by Daniele Ghisi :

Daniele Ghisi's masterclass
The reworking of existing music in order to build new one is a quintessential characteristic of the Western musical tradition.
I will present my personal approach to the subject: the borrowing of music fragments from large-scale corpora (containing audio samples as well as symbolic scores) in order to build a palette of grains. The approach takes advantage of real-time computer-aided composition tools (namely within the Max and bach environments) in order to filter, order, organize and query data; parameters are handled via digital hybrid scores, therefore equipping corpus-based composition with the control of notational practices.

Some personal techniques are presented, along with the aesthetic choices that motivated them and the musical works to which they relate. Most of these techniques can be subsumed under a larger exploratory attitude towards music: composition is an interactive, intuitive discovery—more than an 'invention'.