Ensemble Schallfeld in Residency
02/2019
impuls – AT
Following their residencies in 2016 @ IMD and in 2018 @ impuls, Ensemble Schallfeld with Lars Mlekusch as conductor, will have another residency in Graz in 2019 and is scheduled as opener of the impuls Festival and Academy 2019 with a concert involving several pieces by composers tutoring at impuls in February, whom the ensemble will of course also meet in person …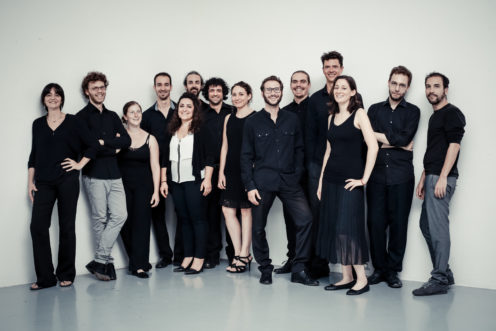 © Wolfgang Silveri
For the opening of impuls, Ensemble Schallfeld presents a colourful snapshot of contemporary composing, celebrating interconnections between painting, visual art and music.
"Chromatic aberrations" are subtle coloured flares and blurs that appear in a photograph if the lens does not focus the light precisely in one point. When we listen to music, the images appearing in our minds are also often blurry, mysterious, fluid. For this program, Schallfeld chose five composers that work with inspirations from painting and visual art. Simon Steen-Andersen is known for his precise composing in the audiovisual field. In Chambered Music, both the sonic, performative and visual potentials of a "chamber" are explored. In three imaginary paintings (Tres pinturas imaginarias), Spanish composer Alberto Posadas tries to achieve a style transfer, transforming painterly techniques taken from Renaissance and modern painting into sonic forms. More reality-bound and with a witty sense of humour appears Agata Zubel's The Streets of a Human City that got praised at its premiere to be a contemporary "symphonic poem" portraying an urban landscape. Vienna-based composer-DJ-turntablist Jorge Sánchez-Chiong presents a new work of his cycle Achromat, using the full colour palette of his diverse musical styles ranging from free improvisation to electronic techno. The closure of the evening marks the iconic Professor Bad Trip: Lesson 1 by Fausto Romitelli. Romitelli's music is not only a psychedelic trip across endlessly warping electronic sounds and loops, but is also deeply inspired by the composer's study of fine art.
(Text: Margarethe Maierhofer-Lischka)
PROGRAMM

10 February 2019, 7.30 pm
Alberto Posadas: Tres pinturas imaginarias (2014)
Agata Zubel: the streets of a human city (2011)
Simon Steen Andersen: Chambered Music (2007)
Jorge Sanchez-Chiong: New Work (2018/19, UA)
Fausto Romitelli: Professor Bad Trip: Lesson 1 (1998)
Helmut-List-Halle, Graz (AT)
At this occasion, Ensemble Schallfeld collaborates with Felix Del Tredici who is participating to the impuls academy in the framework of the ULYSSES Journeys for performers.
organized in partnership with
IMD - DE