Composer course with Kaija Saariaho
07/2019
Time of Music – FI
Kaija Saariaho is a prominent member of a group of Finnish artists who are making a worldwide impact. She studied in Helsinki, Fribourg and Paris.
At IRCAM, Saariaho developed techniques of computer-assisted composition and acquired fluency in working with live electronics. This experience influenced her approach to writing for orchestra, with its emphasis on the shaping of dense masses of sound in slow transformations. Significantly, her first orchestral piece, Verblendungen (1984), involves a gradual exchange of roles and character between orchestra and tape. And even the titles of her, linked, pair of orchestral works, Du Cristal (1989) and …à la Fumée (1990) suggest her preoccupation with colour and texture. Although much of her catalogue comprises chamber works, she has turned increasingly to larger forces and broader structures, such as Orion (2004), Laterna Magica (2008) and Circle Map (2008).
From later nineties, Saariaho has turned to opera, with outstanding success: L'Amour de Loin (2000), Adriana Mater (2006), Emilie (2010) and the oratorio La Passion de Simone (2006) have been performed widely on both sides of the Atlantic. Her opera Only the Sound Remains was premiered in March 2016 at The Dutch National Opera. At the moment Saariaho is working on her fifth opera Innocence to be premiered at Festival Aix en Provence 2020.
Saariaho has claimed the major composing awards: Grawemeyer Award, Wihuri Prize,
Nemmers Prize, Sonning Prize, Polar Music Prize and the BVVA Foundation´s Frontiers of Knowledge Award. In 2015 she was the judge of the Toru Takemitsu Composition Award.
The composer course consists of public lectures and private student lessons. It is possible to apply for the course with an option to compose a new piece for a chamber ensemble (e.g. Uusinta Ensemble) which will be premiered during the festival, or without the option. The ensembles available (2–5 musicians) will be notified to the accepted applicants. Please do not submit materials before the online form opens.
Time of Music Viitasaari, Finland 2-7 July 2019
The course will host Josephine Stephenson (France/UK, 1990) and Leonardo Marino (Italy, 1992) in the framework of the ULYSSES Journeys for composers.
Watch a short video shot during the workshop:


You can also read an article about the festival here: https://fmq.fi/articles/time-of-music#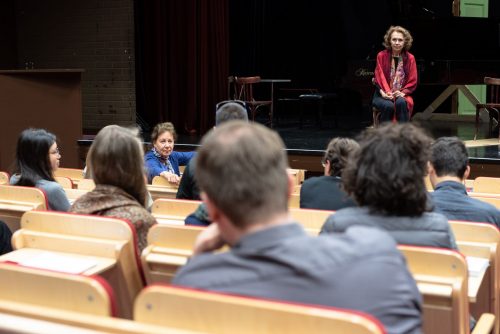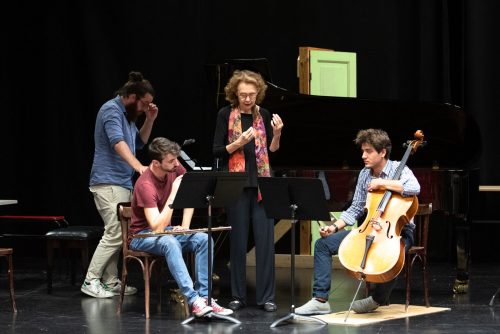 © Sami Sorasalmi