Young Ensemble in Residency: Schallfeld
Schallfeld is one of the ensembles benefitting from the Young Ensembles program of the ULYSSES Network.
They start with an invitation to impuls (AT) in February 2021, to be continued in August 2021, taking the position of junior-tutors, offering workshops for young composers, and profiting themselves from the support of senior academy tutors on site.
The ensemble members have the chance to connect with young composers through a call for scores, reading/feedback-sessions, and partly more intense rehearsals, leading to performances of selected pieces as well as other works as typical for their own repertoire and profiles.
Ensemble Schallfeld is featured with three concerts between February and August 2021, working closely with Pierluigi Billone, one of the academy´s composition tutors, for a brand new, approximately 30-minute long piece to be premiered (Austrian premiere) at the impuls Festival.
Additionally, the ensemble participates in several presentations of their workshops, such as "Instruments + Voices" for example, and Leonard Garms, the conductor of Ensemble Schallfeld, also gives a "First View. A Conductor´s Feedback on Scores" for young composers present.
Consequently, Ensemble Schallfeld is featured not only during the main period of the impuls Academy and Festival, which had to be postponed from February to August 2021 due to the COVID-19-pandemic.
The Ensemble already performs in February 2021 in Graz the following program, including two World premieres, at the occasion of a video-recorded concert instead of a live concert.
The link to the video-production is to be published soon.
Concert 1:  video-recorded
Programme:
Franco Donatoni: Hot (1989)
Rebecca Saunders: Fury II (2009)
Tomoya Yokokawa: Hi Hu Mi (2020, commissioned by Ensemble Schallfeld, World premiere)
Diana Soh: of smaller things, (2020, commissioned by Ensemble Schallfeld, World premiere)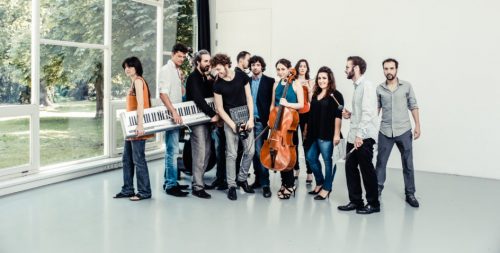 © Schallfeld

Ensemble Schallfeld + Guests:
Szilárd Benes, Arnold Plankensteiner clarinet
Maria Flavia Cerrato/Patrick Skrilecz piano
Manuel Alcaraz Clemente percussion
Mirko Jevtović accordion
Lorenzo Derinni violin
Myriam García Fidalgo cello
Margarethe Maierhofer-Lischka*** double bass
Elisa Azzarà* flute
Gerald Preinfalk**, Stephanie Schoiswohl saxophone
David Schmidt trumpet
Stefan Obman trombone
Leonhard Garms conductor
*Soloist in the piece by Tomoya Yokokawa
**Soloist in the piece by Franco Donatoni
***Soloist in the piece by Rebecca Saunders