Summer Academy Opus XXI 2018
08/2018
OPUS XXI / HfMT – DE
The Summer Academy Opus XXI 2018 will take place from August 21st until August 30th . It will take place in cooperation with the event-center "La Friche la Belle de Mai" in Marseille (FR) and the "Centre National de Création Musicale / GMEM" which resides inside "La Friche".
The musical focus of Opus XXI 2018 will rest on chamber-music repertoire. Due to the location, where Opus XXI 2018 will take place, the repertoire will include a series of works that can be brought together under the motto "Méditerranée". This means, the chosen repertoire will include works that are either composed by composers from the Mediterranean area or that can be related to the Mediterranean region. Another focus lies on musical works, that have been composed in the time roughly between 1945 and 1975 and that can be labeled as "classics of new music after 45".
Members of the Ensemble in Residence (ensemble KNM, Berlin) will support the young musicians, who are mainly students of the International Ensemble Modern Academy (IEMA, Frankfurt (DE)). Other members (one composer and one violin and alto) will be acquired within the Ulysses-Network and from European conservatories. The members of the Ensemble in residence will work with the participants in separate courses. Also a team of teachers will hold lectures and work with the performers. Courses in composition, music business and self-marketing are also a part of the Academy. Another part of the lectures will be courses in improvisation, which allows the participants to expand their abilities as musicians and performers and to try out new approaches.
The final concert will take place at "La Friche la Belle de Mai" on August 29th. One day before that, the performers will give an improvisational performance-concert, also at "La Friche". On August 31st, a rerun concert in the concert-series "HappyNewEars" will take place in Hamburg at the Resonanzraum in Hamburg (DE).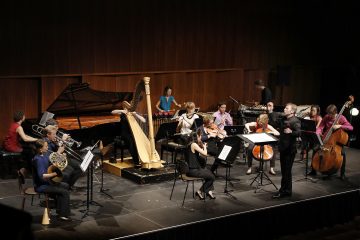 © Anja Koehler
Involved Artists / Staff
Ensemble KNM / Berlin: Ensemble in Residence
Donatienne Michel-Dansac: Vocal Coach
Jean-Marc Foltz: Improvisation Coach
Henry Fourès: Composition teacher / Artistic board
Fredrik Schwenk : Composition teacher / Artistic board
Reinhard Flender: Career Coarching / General Manager
Elisabeth Gutjahr: Improvisation / Artistic board
Schedule:
22nd August 2018: Start of the academy
28th August 2018: improvisational concert
29th August 2018: final concert in Marseille (FR)
31st August 2018: rerun concert in Hamburg (DE)
organized in partnership with
IEMA - DE