International Summer Academy HfMT – Hamburg 2018
08/2018
HfMT – DE
The International Summer Academy for Contemporary Music 2018 takes place at the Hochschule für Musik und Theater in Hamburg (DE) from August 25th until August 31st.
Again a group of young and talented musicians and composers from Hamburg and Europe have the opportunity, to work with a renowned ensemble in residence and a team of tutors in intensive workshops to prepare a challenging and diversified musical program. The final concert takes place on August 31st at the "Resonanzraum" in cooperation with the Hamburgian concert-series "HappyNewEars (http://happynewears.de/).
The repertoire includes a series of works for ensemble as well as chamber music and can be brought together under the motto "Méditerranée". This means, the chosen repertoire will include works that are either composed by composers from the Mediterranean area or that can be related to the Mediterranean region. Also two works relating to the motto have been commissioned by the young composers Adrien Trybucki (FR) and Xiao Fu (D/CHN). Both composers are present at the Academy. As part of a ULYSSES-Journey also the British composer Josephine Stephenson supports the musicians in the rehearsal of one of her pieces.
Another focus lies on musical works, that have been composed in the time roughly between 1945 and 1975 and that can be labeled as "classics of new music after 45.
Members of the Ensemble in Residence (ensemble KNM, Berlin, DE) support the young musicians, who are mainly students of the International Ensemble Modern Academy (IEMA, Frankfurt, DE) as well as musicians from the European Master-Class CoPeCo, from the HfMT Hamburg and other European Conservatories. The members of the Ensemble in residence work with the participants in separate courses.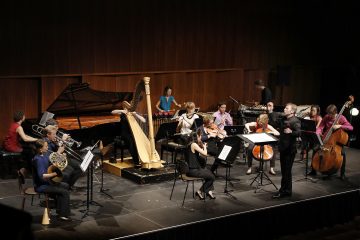 © Anja Koehler
Involved Artists / Staff
Ensemble in Residence: Ensemble KNM, Berlin (DE)
Reinhard Flender: Career Coarching / General Manager
Fredrik Schwenk: Composition teacher / Artistic board
Verena Mogl: Project manager / Artistic board
organized in partnership with
IEMA - DE