Opus XXI – Summeracademy 2017
08/2017
OPUS XXI / HfMT – DE
The annual Summeracademy Opus XXI for contemporary music will take place from August 02nd until August 11th 2017 in Trossingen (DE), with the local Musikhochschule as cooperating partner.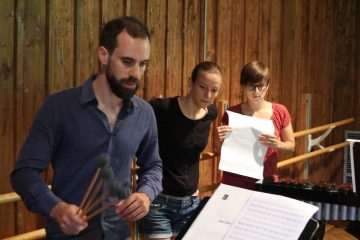 © OPUS XXI
Once again a selection of young performers, vocalists, conductors and composers will have the chance to work and rehearse together intensively to prepare a selection of musical compositions. Two of these compositions have been commissioned exclusively for Opus XXI from Zesses Seglias (GR) and Bertrand Plé (FR). Another artist who will contribute a composition is Mioko Yokoyama (JP), who is taking part in this year's Opus XXI as a ULYSSES-Journey Composer.
Composer in residence will be the composer Miroslav Srnka (CZ), whose compositions have stirred the musical scene lately and whose "….Les Adieux " will be rehearsed by the students.
As Ensemble in Residence the French ensemble L'instant donne will work with the students, and the member of the ensemble will share their experience with the participants of Opus XXI.
Besides working on several musical compositions the students will also have the chance to take part in improvisational and performance-courses, that are led by an international team of instructors.
The final concert of Opus XXI 2017 will take place in the context of the "Bregenzer Festspiele" on August 11th.
Further information here.
Enregistrer
Enregistrer
Enregistrer
Enregistrer