International Workshop for Young Composers in Bobbio
07/2017
Divertimento Ensemble – IT
International Workshop for Young Composers, Bobbio (Piacenza, IT)
July 7-16, 2017

A project of Divertimento Ensemble, Milan
Final concerts: Auditorium S. Chiara, July 15 and 16, 2017
performance of all the students' pieces
The third edition of the International Workshop for Young Composers organised by Divertimento Ensemble takes place in Bobbio (Northern Italy) and will welcome 10 young composers from all over the world.
During the workshop Divertimento Ensemble, conducted by Sandro Gorli, rehearses and performs the composers' pieces, while the tutors Franck Bedrossian and Stefano Gervasoni shall discuss the scores and go deep into composition matters with the students.
Divertimento Ensemble will welcome to Bobbio composers and performers recommended and selected within the ULYSSES Network:
# three young composers selected by the Ulysses Network (among the 10 total composers) will attend the workshop:
– Georgia Koumará, born in Greece and living in Germany
– Eiko Tsukamoto, born in Japan an living in Germany
– Maya Verlaak, from Belgium;
# three young performers selected by the Ulysses Network will participate in the workshop as guest members of the Divertimento Ensemble:
– Sarah Saviet, violin, born in the USA and living in Germany
– Clemens Gottschling, horn, from Germany
– Kevin Fairbairn, trombone, born in the USA and living in Austria
We are really happy to open our door to these young and clever musicians and share with them the interesting workshop that allow us to get acquainted with some of the best young composers on the world stage.
Further information here.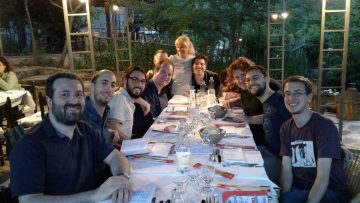 Enregistrer
Enregistrer
Enregistrer