Conductor course with Susanna Mälkki and IEMA
07/2017
Time of Music – FI
Time of Music Festival (4th to 9th July 2017, Viitasaari, FI) hosts a masterclass for conductors around iconic and challenging contemporary Sinfonietta repertoire.
The tutor of the course is the Finnish conductor Susanna Mälkki (Helsinki Philharmonic Orchestra, Los Angeles Philharmonic, former Chief Conductor of Ensemble Intercontemporain).
Participating conductors work with an ensemble consisting of IEMA (International Ensemble Modern Academy) ensemble participants and invited ULYSSES Journey musicians.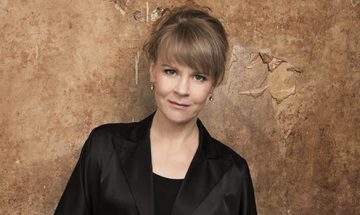 © Harrison Parrot
The masterclass ends in public concerts during the last days of the Festival 8th and 9th of July 2017:
Final concert of conductor masterclass I
Saturday 8.7. at 19.30 Viitasaari Areena
International Ensemble Modern Academy
Magnus Lindberg: Jubilees (2002) 15´
Veli-Matti Puumala: Chaint Chains (1996-98) 20´
—
Franco Donatoni: Spiri (1977) 10´
Pierre Boulez: Dérive 1 (1984) 6´
Harrison Birtwistle: Silbury Air (1977/rev.2003) 15´
Final concert of conductor masterclass II
Sunday 9.7. at 17.00 Viitasaari Areena
International Ensemble Modern Academy
Ondřej Adámek: Ça tourne ça bloque (2008) 16´
Bent Sørensen: Sirenengesang (1994) 14´
—
Jonathan Harvey: Sringara Chaconne (2009) 12´
Thomas Adés: Living Toys (1993) 17´
Participating conductors:
Elsine Haugstad
Petr Popelka
Edo Frenkel
Ryan Murray
Arash Yazdani
Jaan Ots
James Ham
And these three are Ulysses Journey conductors:
Nestor Bayona*
Jonas Rannila*
Yalda Zamani*
Enregistrer
Enregistrer
Enregistrer
Enregistrer
Enregistrer
Enregistrer
Enregistrer
organized in partnership with
IEMA - DE