Call for Young Performers / PERCUSSION MASTERCLASS
04/2018
Divertimento Ensemble – IT
Percussion Masterclass
Milan (IT), 13th-18th April 2018
Application deadline: 30th January 2018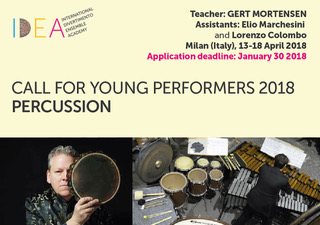 Teacher: Gert Mortensen
Assistants: Elio Marchesini and Lorenzo Colombo
Tutor: Stefano Gervasoni (for the performance of his composition Bleu Jusqu'au Blanc)
The masterclass lasts six days, form April 13th to 18th, including individual lessons and ensemble rehearsals at the Fabbrica del Vapore.
A final concert will be presented publically on 18th April at Palazzina Liberty, in Milan (IT).
Individual lessons will be carried out on pieces chosen by the student among those suggested.
When applying, students can also show a repertoire different from the one suggested by the announcement, which will have to be approved by the teacher.
The masterclass will welcome two ULYSSES Journey performers.
Further information about the masterclass and the application procedure available here.
Suggested Repertoire
Ensemble repertoire

John Cage, Third Construction, for 4 percussionists
Stefano Gervasoni, Bleu Jusqu'au Blanc (1995), for 6 percussionists
Per Nørgård, Easy Beats, for 6 percussionists
Sven David Sandström, Drums, for 5 percussionists
Giacinto Scelsi, Trio (1950), for vibraphone, marimba and percussions
Solo repertoire
Franco Donatoni, Mari

Franco Donatoni, Omar

Morton Feldman, The King of Denmark
Vinko Globokar, Corporel

Philippe Hurel, Loops
Helmut Lachenmann, Guero

Salvatore Sciarrino, il legno e la parola, for 5 octaves marimba
Karlheinz Stockhausen, Zyklus

Jannis Xenakis, Psappha
Jannis Xenakis, Rebounds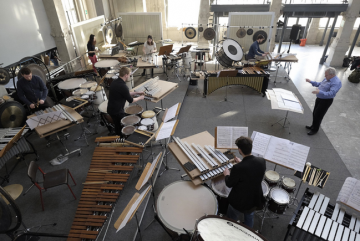 © Divertimento Ensemble